on the feast of St Agnes
Today we visited the church of Sant'Agnese fuori le Mura — St Agnes outside the Walls. It's the feast day of St Agnes, a young girl of 12 or 13, who was killed in Rome for her Christian faith near the end of the persecution under the Emperor Diocletian, around the year 304. This is the church where she is buried, and a great service is held in this church on this her feast day.
At the start, two tiny (live) lambs, garlanded and bedecked with flowers are carried into the church on trays and placed on the altar. They are blessed, and then, during the Gloria, carried out in procession, and away to a convent. When they are old enough to be shorn, their wool is woven into the palliums which the Pope gives to all Roman Catholic Archbishops (as a symbol of their metropolitan jurisdiction).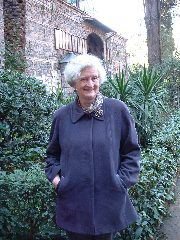 Margaret Visser has written an interesting book about this church and the cult of St Agnes, The Geometry of Love (see it at Amazon UK, and there are some pictures on her website). After the service one of our group spotted Margaret Visser in the church and she was kind enough to come and talk to us about the church and the book.
Here we worshipped; here we prayed, at this place (as Eliot wrote about Little Gidding) where prayer has been valid; to stand and pray at the shrine of this young girl, martyred for her faith 1700 years ago today; to stand and pray with this young girl and for this young girl, who surrendered her life rather than offer incense and prayers to pagan gods; to stand and pray with the countless numbers who down the centuries have stood in this same place, before the tomb-chest of Agnes, and who have similarly offered their prayers — this is a moving experience, although one rather wonders what she would have made of the great church and the great service held in her name, let alone the incense offered at the altar over her tomb!