Common Worship Almanac for 2021-22
My Almanac for the liturgical year 2021–22, the year beginning Advent Sunday 2021 is now available. The Almanac is a complete and customizable download that can be added to the calendar on a desktop/laptop, a tablet or a smartphone providing a fully-worked out calendar and lectionary according to the rules of the Church of England. Several download formats are provided, giving access to most calendar software on most devices.
As before, download is free, and donations are invited.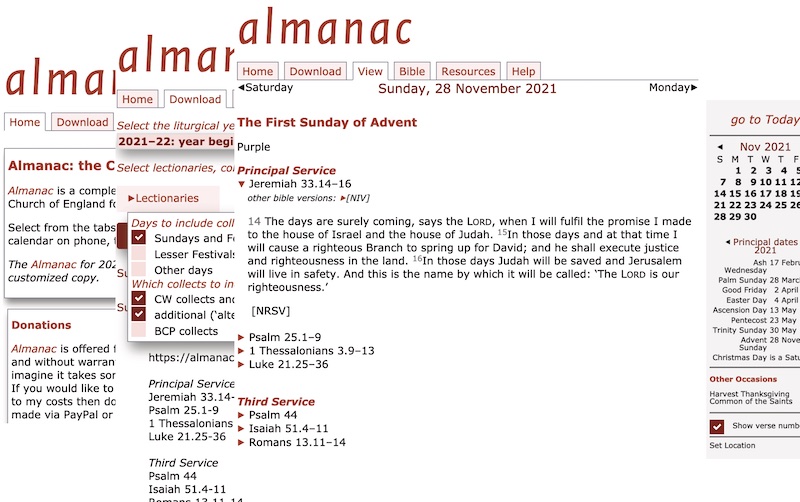 What's new?
The Almanac is also available as a web page that can be installed as a web app on smartphones and tablets for easy access to all the data. New features include
the Download tab now shows a live preview of the data that will be added to your calendar; as you select options from the menus the live preview automatically reflects your choices
in the View tab you can toggle the display of verse numbers in the readings, making it simpler to copy and paste passages to other documents in the desired format
in the View tab the bible readings now have an additional link to the NIV text at Bible Gateway, as well as displaying the NRSV text (or the Common Worship psalter for psalms)
a new shorter format for subscription links (old-style links continue to work as well)
Donations
This Almanac is offered free of charge, and without warranty, but as you might imagine it takes some effort to compile. If you would like to make a contribution to my costs then donations may be made via PayPal at paypal.me/simonkershaw. Alternatively, Amazon gift vouchers can be purchased online at Amazon (amazon.co.uk) for delivery by email to simon@kershaw.org.uk .
The Almanac has been freely available for over 20 years. There is not and has never been any charge for downloading and using the Almanac — this is just an opportunity to make a donation, if you so wish. Many thanks to those of you who have donated in the past or will do so this year, particularly those who regularly make a donation: your generosity is appreciated and makes the Almanac possible.