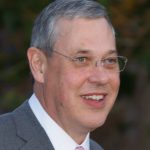 I'm Simon Kershaw and I work for a software company in Cambridge. I have worked in the industry for several decades, after reading physics at Oxford. I've been married to Karen for over 30 years, and we have two adult children: Jenny, who's married to Richard, and Alexander. Karen and I are long-time members of All Saints' Church, St Ives, where Karen sings in the choir and I'm a bell ringer. I'm also Lay Chair of the Ely diocesan synod, a lay canon of Ely Cathedral and a member of the Liturgical Commission of the Church of England.
Thinking allowed is a place for me to write about topics that take my interest. Over the last 15 years this has largely been about liturgy and bellringing, but in the future I shall probably include other subjects, such as issues of social justice and liberal Christianity; computer software; typography, books, heraldry, and perhaps other stuff too.
The title alludes to the Thinking Anglicans blog, which I have helped run since it began in 2003. It indicates that the important things in life — faith and morals, politics, art, even work, have to be thought about and considered critically, not just accepted without debate. It's also, of course, a pun on the idea that here I am simply thinking aloud — that these are often just rough, unfinished thoughts.
0 Comments